One of the important skills is known as swaling; this is an ancient practice where commoners burned tall, overgrown heather, gorse and long rank grass to improve the grazing for the animals in the next season.
Today this practice is very carefully managed as to frequency and area of burns allowed in the interests of conservation under the Heather and Grass Burning Code.
Nationally burning can only take place between 1 November and 15 April. On Dartmoor a voluntary code requires burning to cease by 31 March because, in the south west, ground-nesting birds are beginning to nest by then.
Where there are insufficient animals to graze certain parts of the moor, the resulting overgrown vegetation presents a dangerous risk of accidental fire. These fires are difficult to control and can burn for many days destroying vast areas of the fragile environment, threatening wildlife and grazing animals.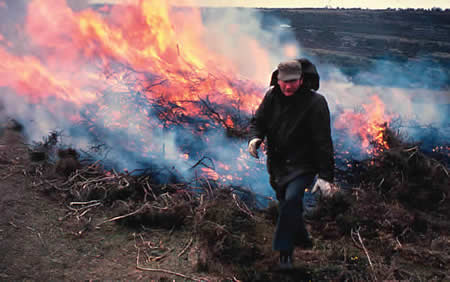 The public are asked not to light fires and to be aware of the increased fire risk during dry weather. Swaling Guidance (pdf)

Dartmoor Commoners' Council, 1 Canal Road, Tavistock, Devon, PL19 8AR Tel: 01822 618892
Terms of Use Accessibility Statement Last updated 19th October 2023 Mobile site by WesternWeb Ltd